Join us this October for an afternoon/evening of networking with technology peers in a fun and thrilling setting.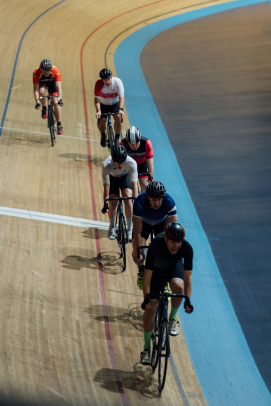 Accessplc is putting on an event like no other as we take you onto the boards for a unique track experience you'll never forget.
Whether you're a seasoned cyclist or novice, the expert coaches get you up and going in no time. Literally, anyone can do it!
The best part? You'll ride with new friends and contacts from the IT/Digital world, with no ice to break and plenty of off-track breaks to chat away over a coffee and cake.
Refreshments and snacks will be provided at the trackside. Still, we'll also be heading to a local restaurant after for optional dinner & drinks, and a chance to network into the evening over a well-earned beverage!
Derby Arena
31 Royal Way Pride Park
Derby
DE24 8JB
1pm – Arrival Time, with a chance to have a coffee, chat and get ready for the day.
2-5pm – Track Time and Networking.
5-6pm – Time to have a chat, get changed and showered before dinner.
6-8pm – Dinner and drinks at the local restaurant (optional but encouraged).
Bike, Shoes, and Helmet hire are included (unless you are bringing your own).
Please note you must have LOOK cleats.